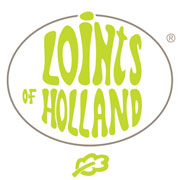 In a perspective of "less is more", the company produces shoes that are beautiful in their simplicity. Most models have no lining, saving leather, glue and labor.
Consumers, in addition to buy beautiful well comfortable shoes, also buy a product that is friendly ecologic and durable, respectful of nature.
It is in 1918 that begins the adventure Loints of Holland with the independent shoemaker Cornelius Klijsen in his studio in Kaatsheuvel, the southern region of Holland known for its tanneries and shoe factories. His son created the first collection, the third generation in the early 70s brought to the brand its crisp, and it is with the fourth generation that begins the exportation of the brand.
Environmentally, Loint's of Holland works with responsibles tanneries who work under the domination "TERRACARE". With its suppliers the brand tries to obtain a responsible product as much as possible. The origin of the raw material is still very important.
The shoes are produced in their own factory in Hungary. The head office is located in Sprang-Capelle, Netherlands. Loints of Holland itself manages all stages of the production process, from the purchase of leather until the creation of models. In this way, the brand can monitor and control all stages.
The important thing is to stay in the principle of simplicity, combining design and a good fit. This is the heart of business Loint's of Holland !